Initiatives and results
Evolution of growth
Start of an SEM acquisition campaign
This client started with us with a simple Google Ads acquisition campaign (formerly Adwords) to obtain new prospects on a low budget. The client having immediately seen an impact, he decided to grow his business.
Website redesign & expansion of SEM campaigns
The site was redone with WordPress with the aim of making information more accessible to prospects, modernizing the look of the site by speeding up its loading, to ultimately convert more visitors into prospects!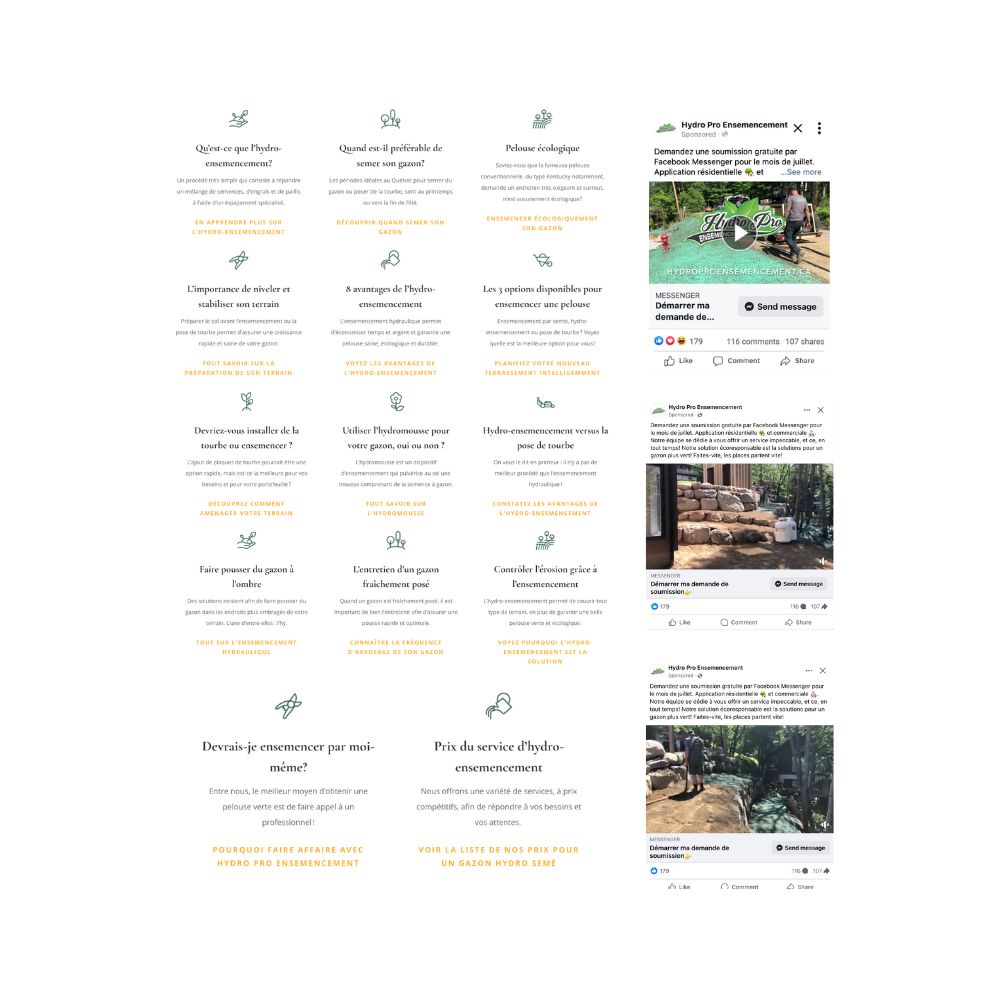 Creating SEO content and adding Meta campaigns
Positioning in the top 3 for all important industry keywords and creation of content specific to the questions searched by prospects on the web. Expansion of the site on a seasonal basis in winter in order to obtain results at the start of the season.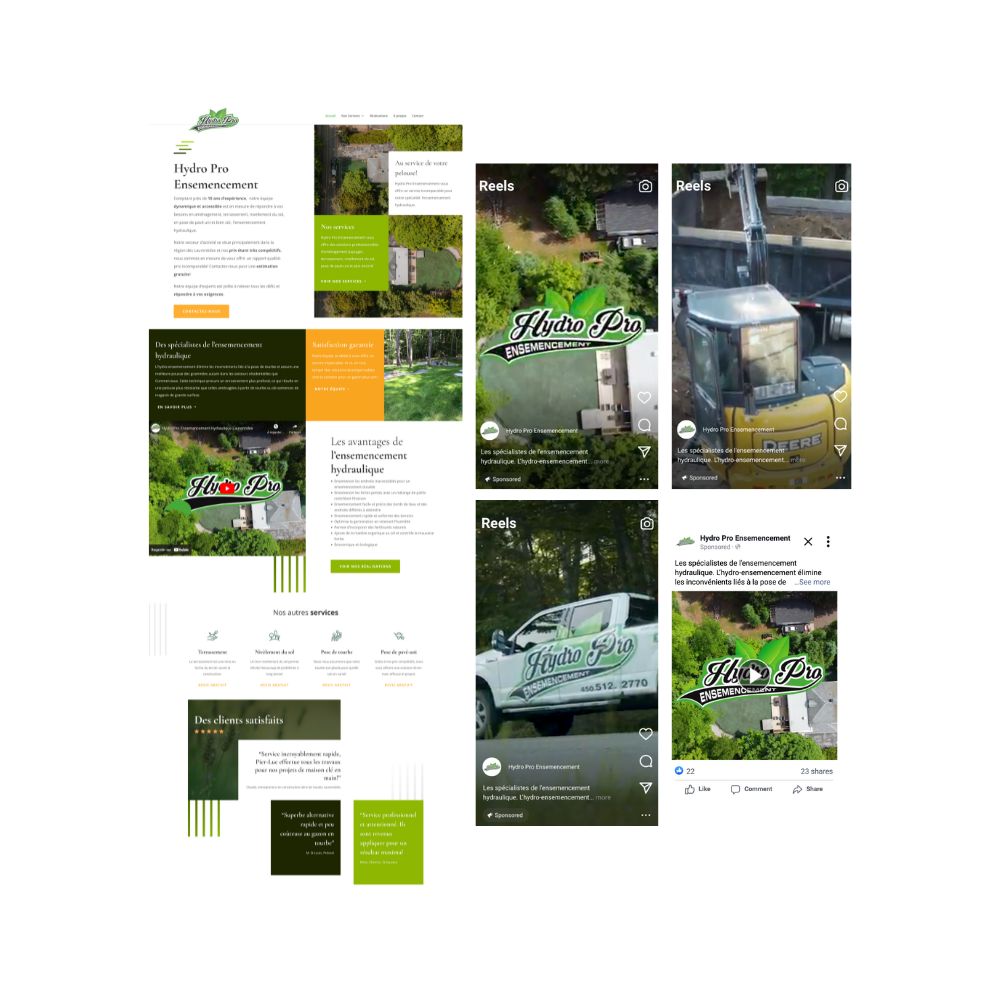 CRM implementation, photo and video shooting
Following the success of the previous year, HubSpot was implemented to be able to track transactions and prospects. In addition, in order to take the brand image to the next level, a media investment was required (before and after photos of work, team, complete video on the ground and by drone.
Another record season
A major competitor has entered the market provincially. Our client agreed to opt for an aggressive strategy at the beginning of the year in order to position itself as the reference in the field and to be able to plan its season as early as possible with economic uncertainty, and it was a success! Now compliant with Bill 25, Hydro pro is ready to reach new heights next year!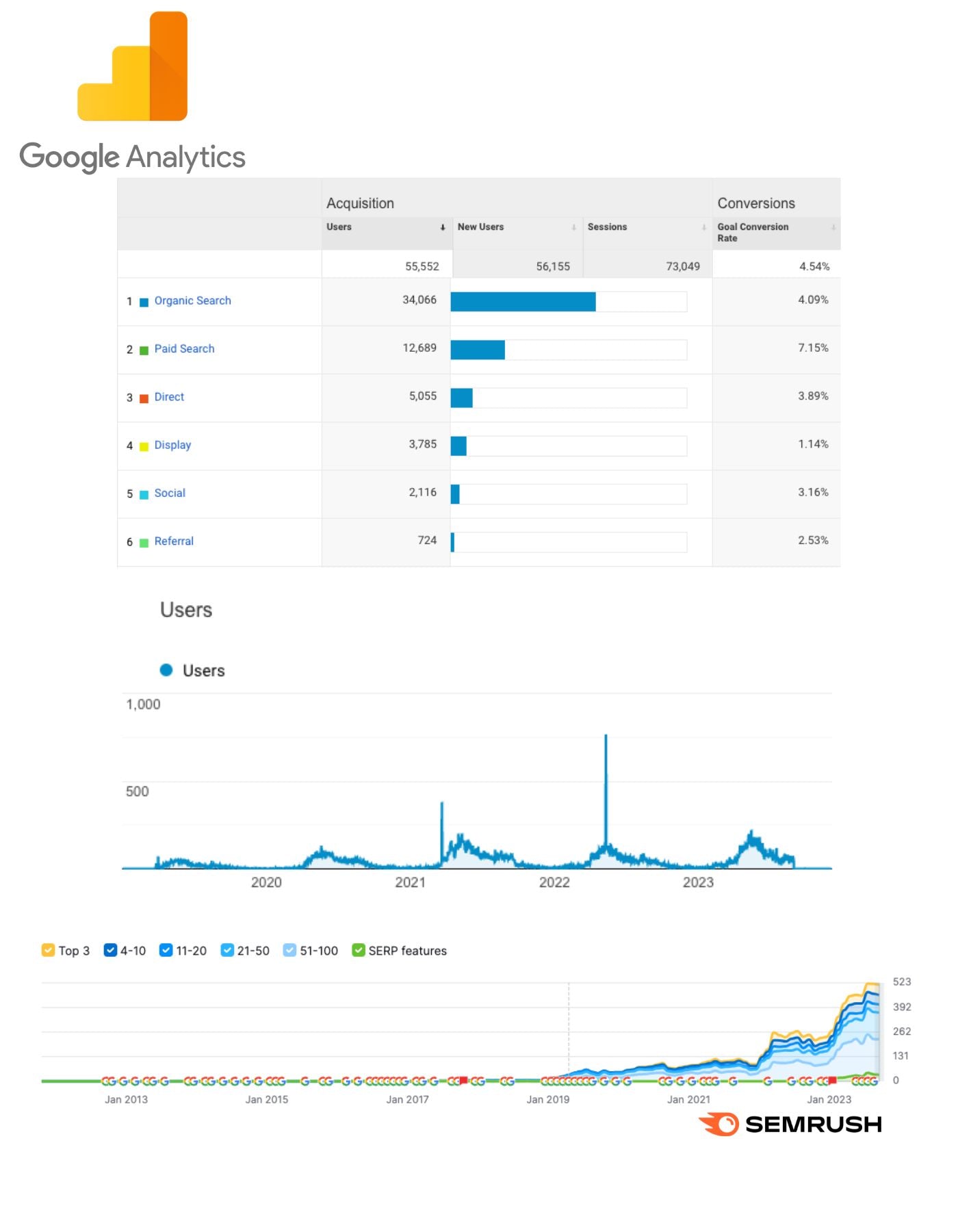 SEO mandate April 2019 - December 2023
top 3 to 5 on all primary keywords in the business region
4% conversion (form goals, phone calls and HubSpot or Messenger online chats) for acquisition made by SEO!
We observe 3500+ leads followed (aware that we can't track everything!)
SEO acquisition grew more aggressively between 2019 and 2020, but is still stable and increasing by 30-40% per year despite the company's entry into the primary market of a provincial competitor.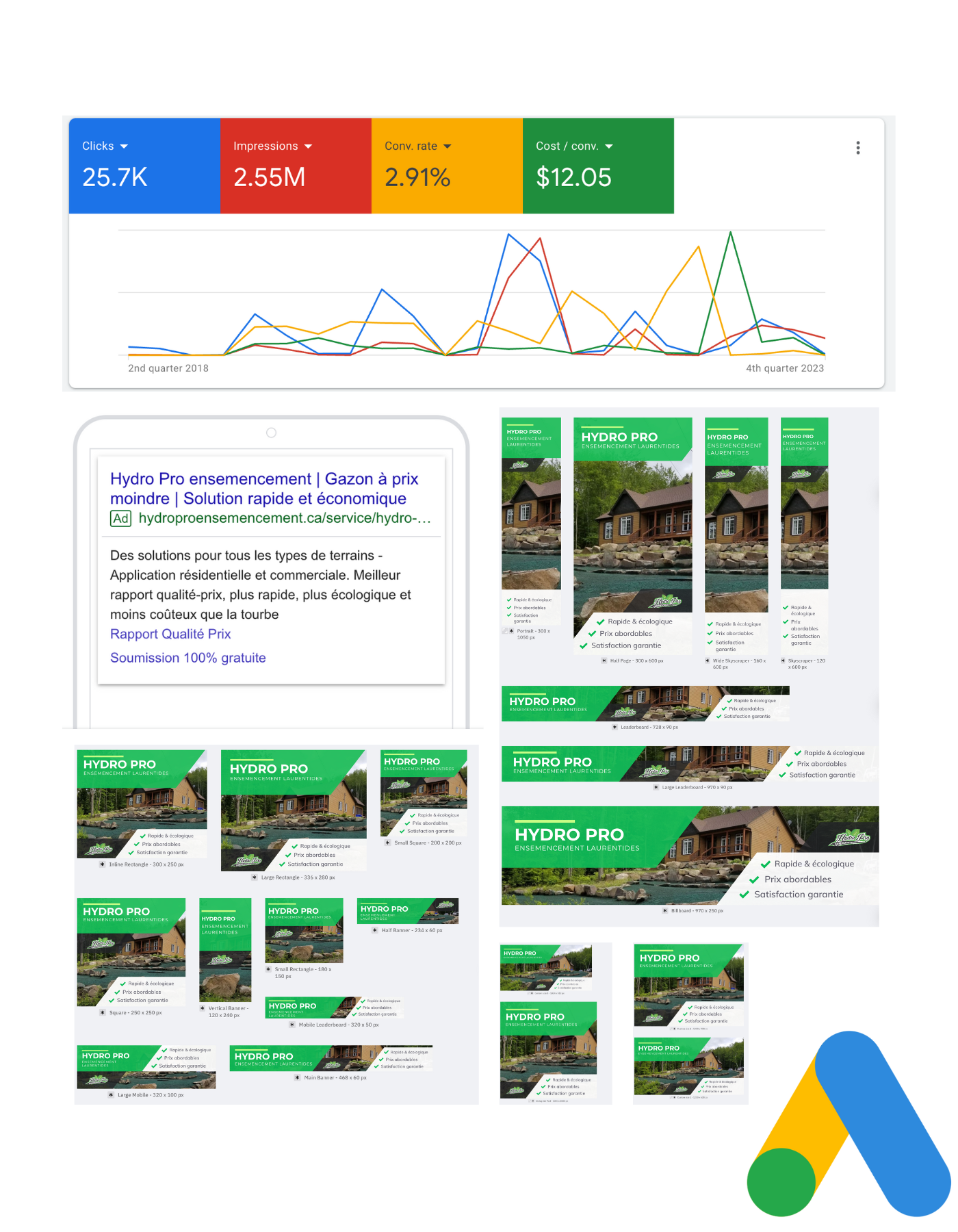 An ROI of 25X for 5 years
SEM acquisition - Google Ads
Thanks to a keyword acquisition strategy combined with a display banner strategy (cold acquisition and retargeting of website audiences), our client was able to maintain a very low cost per conversion from the very beginning. Thanks to our feedback with the client, we are able to adjust campaigns according to the week and schedule in season.
HubSpot CRM, Service, Sales and Marketing
Structuring the sales and business development process
Before hiring a person who can administer the process, it was necessary to define it and structure it in stages. The ultimate goal is to automate as much as possible with the volume increasing over time in order to be able to have one person doing the work of 2 without any more effort!
I have had my best season in the company's history year after year for 5 years now! I sold my snow removal business and thanks to Bofu's marketing know-how, I can focus on my specialty: hydroseeding and landscaping. Thanks guys!
EXPLORATION
Our process always begins with a phone call or a virtual or face-to-face meeting. We want to take the time to get to know you and learn more about your business, its needs and its goals.
This will allow us to identify the value we can bring to it.
ANALYSIS
Initially, we want to know everything about your company: your short-term and long-term goals, your mission, your vision, your values, your customers, who your competitors are, the situation in your industry and your level of commitment to search engines and social networks .
The creation of a complete strategy will result from this analysis.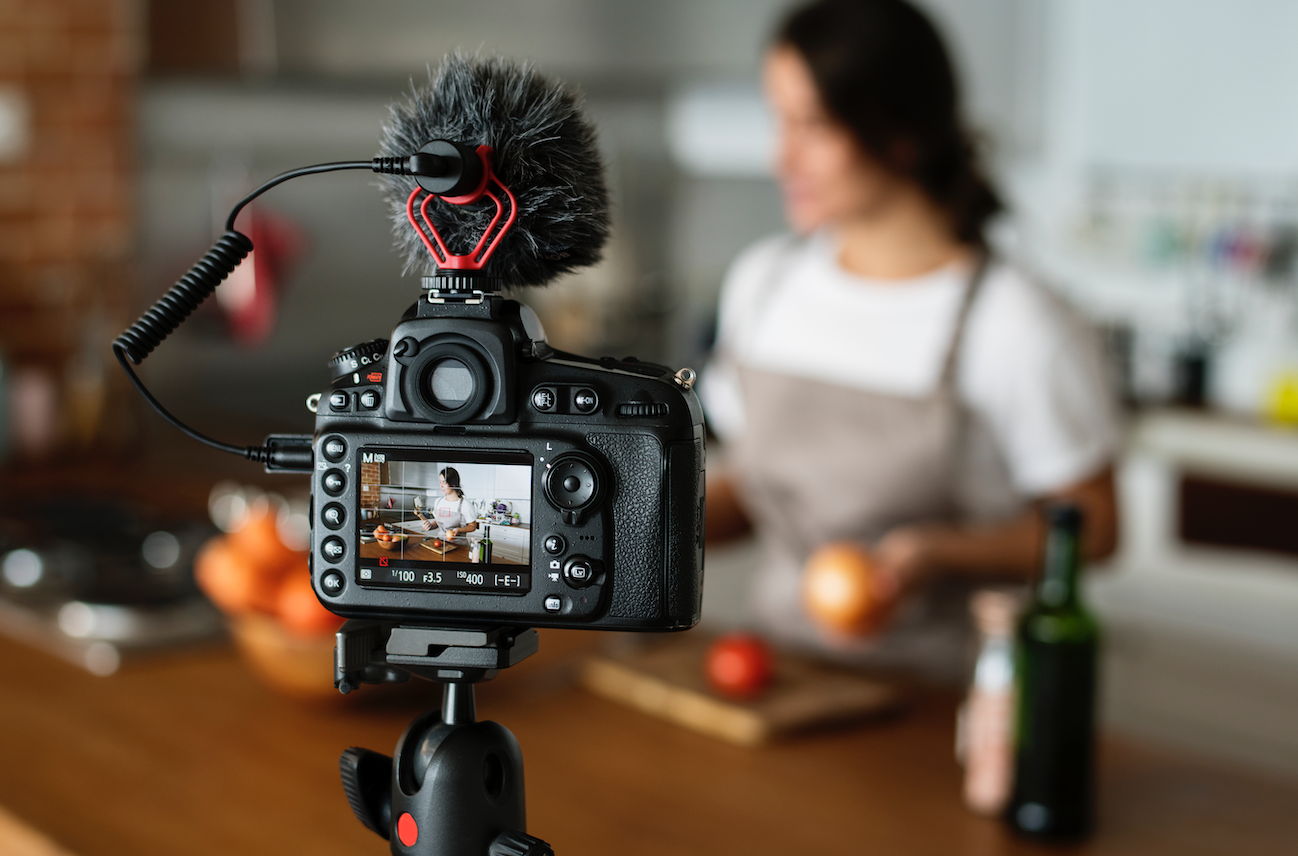 DEPLOYMENT
We will take the established strategy and turn it into a clear action plan for the next 3 months, a general guide for the next 6 months and a strategic plan for the next 3 years.
We will deploy these actions, using our expertise and our network. Our goal is to generate a rapid and measured return on investment.
MEASUREMENT, EVALUATION & OPTIMIZATION
We will evaluate the performance of our deliverables, on an ongoing basis, to improve results, optimize actions and achieve the best return for every dollar invested.
Follow-ups will be done on a regular basis, in order to align your business strategies with the reality of your business and new digital trends, in order to obtain greater reach.
all our digital marketing services
COMPANY POSITIONING
PERSONALIZED ADVERTISING STRATEGY
FACILITATE YOUR PROCESSES AND CONVERT