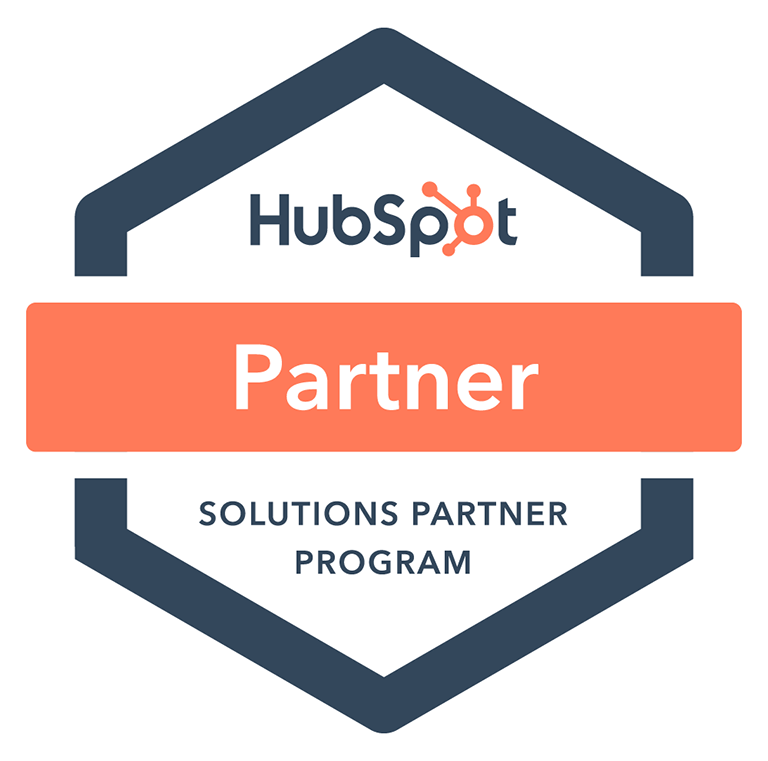 Accredited Hubspot Partners
hubspot partner agency
The benefits of working with a Hubspot partner
As partners, we play a crucial role in planning, building, deploying and automating Hubspot! We provide solutions that help them start, sell, market, automate and manage their businesses.
Whether you're an established business or just starting out, Hubspot gives you the tools and resources you need to increase your revenue and generate more leads and sales.
Maximize your leads & revenue
Turn your prospects into customers and manage the relationship with them! Managing your contacts has never been smarter than with Hubspot's tools including CRM, sales module, and marketing module.
The fact that we are platform experts will minimize errors in expenses and reduce the time to value for your business.
Plus, combined with our Shopify, Wordpress, Klaviyo, and Hubspot expertise, we're able to provide you with complete solutions for CRM, automation, email marketing, SEO, SEM, and more.
Continuous learning at the service of our team
Hubspot Academy
Accelerate your career and growth by earning free certifications and adding recognized badges to your LinkedIn profile.
Certify your skills today and join over 200,000 professionals who have developed their expertise with HubSpot Academy.
Work with experts
Research by RSW/US and Mireen found that 30% of agencies still use Excel to manage their new business strategy. This tells us that agencies aren't willing to pay big bucks for a complex CRM system that they won't fully utilize.
The HubSpot CRM was designed for sales teams who need an easy way to organize, track, and grow their sales pipeline.
With automations, you'll find leads fast, be able to organize your work efficiently, and make your CRM work for you. In addition, thanks to certain automations, you will be able to increase your marketing efforts according to the different stages of your sales process.
A methodical approach to growth.
Structure the growth of your business by establishing a precise strategic plan, allowing you to accelerate the return on investment.
BOFU stands for bottom of the funnel and refers to the most important part of the sales funnel, where your potential customers are ready to convert — buying your products, making an appointment, requesting a quote, etc. Our solutions focus on optimizing this stage of the sale, so that you can obtain a concrete, rapid, measured and quantified return on investment.
What our customers say about us
I've had my best season in company history year after year for 3 years now! I sold my snow removal business and thanks to Bofu's marketing know-how, I can focus on my specialty: hydroseeding. Thanks guys!
Through his BOFU agency, Marc-Antoine offered us/offers impeccable service by focusing on various short/medium and long-term strategies for our business. Their attention to detail and understanding of our business environment is an important competitive advantage for us.
Marc-Antoine is great to work with. He is very responsive to the daily needs in marketing and has a wealth of knowledge on web based activity. He drives sales initiatives through social media and has the ability to expose activities and products directly to the retailer and end user. Marc is always willing to jump in and contribute to the goals of the organization. He is an asset to us and keeps me up to date with all market trends.
Thanks to the different marketing strategies we use to increase my sales are really solid. I never thought I would have such success following their coaching for my social networks, my websites, my advertising and Amazon. Their long-term vision for my products and services, their ingenious ways to monetize my brand. I recommend X1000.
Great experience! Always satisfied with the professionalism of Marc-Antoine! He was able to meet all my requirements! Thanks to him, my site is very well referenced on Google!
A professional team that takes the time to support you in the development of your web strategies. A must for young and old companies! 🙌😄
Impeccable customer service! I recommend.